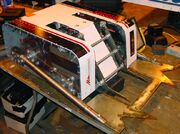 Default was a Middleweight robot built by a high school team from Plymouth, Massachusetts. It was a black, and white robot armed with a 180 degree lifting arm, as well as what looked to be an additional lifting wedge on the front. It is unknown how well Default did in the competition, or if it ever attempted to compete again.
Default originated from the same high school as Season 3.0 Middleweight competitors Reactore, and Gungnire, as well as BattleBots IQ competitor Accelerator.[1]
References
Ad blocker interference detected!
Wikia is a free-to-use site that makes money from advertising. We have a modified experience for viewers using ad blockers

Wikia is not accessible if you've made further modifications. Remove the custom ad blocker rule(s) and the page will load as expected.