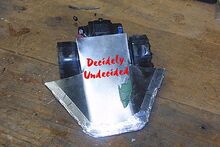 Decidedly Undecided was an Antweight built by Robotic Hobbies, it was a two wheeled, Silver weaponless wedge robot that was based off of a BattleBots toy. Decidedly Undecided did poorly in the competition, winning only one battle, and losing two. The team that built Decidedly Undecided also built Papercut, Gone Postal, and The Mailman. All of which competed in the same event.
Robot History
2004 NPC Charity Open
Decidedly Undecided's first fight was against One Fierce Beer Coaster. It lost this fight, and next faced Punked Out Puppy. It won this fight, and faced Arsenic. it lost this fight, and was eliminated from the competition.
Wins/Losses
Ad blocker interference detected!
Wikia is a free-to-use site that makes money from advertising. We have a modified experience for viewers using ad blockers

Wikia is not accessible if you've made further modifications. Remove the custom ad blocker rule(s) and the page will load as expected.