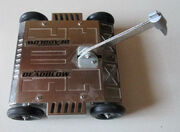 As well as a Grip N' Grappler, Deadblow was offered as a kit in 2001 by Jakks Pacific and Road Champs for those willing to build their own version. The hammer is completely motorized, using power from 2 AA batteries, although the robot itself is non-motorized.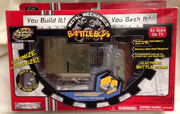 Trivia
Although the box correctly claims Deadblow was a Las Vegas 2000 quarter finalist, it also claims it was the San Francisco 2000 and Las Vegas 2000 middleweight champion, which is untrue. Hazard and Spaz were the champions for those respective seasons (though Deadblow did become a runner-up after Hazard).
There are two versions of this kit. The first one is based off of Deadblow's Season 2.0 design and the 2nd is based off of the robot's Season 3.0 design, complete with the wedge skirts and flipping arm extension on the hammer. The 3.0 design of the kit comes with stickers to make your kit appear to have damage.
Contrary to the real robot's design, both kits have black tires instead of the real one's gray ones and the flipping arm attachment stands out where on the real robot, it matches the color of the head, which is also made of rubber unlike the weapon arm.
Deadblow is one of few Metal Mechanics kits without a rotating weapon.
The wedge skirts are not hinged either and are instead screwed into the chassis itself.
Deadblow was only one of 2 robots to be made into a Deluxe Metal Mechanics set.
Ad blocker interference detected!
Wikia is a free-to-use site that makes money from advertising. We have a modified experience for viewers using ad blockers

Wikia is not accessible if you've made further modifications. Remove the custom ad blocker rule(s) and the page will load as expected.