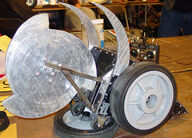 Concretor was a lightweight robot which competed in the final two seasons of BattleBots. It was originally an invertible wedge-shaped robot with no active weapon. It was updated to having a vertically-spinning disc for Season 5.0. It didn't perform well in competition, winning only one battle in Season 5.0.
Concretor was so named because it was initially designed to have concrete armor. However, this was scrapped for unknown reasons.
Robot History
Season 4.0
Concretor's first and only match in Season 4.0 was against
General Gau
. At the start of the match, Concretor was apparently high-centered some, its wheels just spun, barely moving, and General Gau came over and pushed it. Both robots' motion seemed a bit jerky after that; General Gau probably because the magnet wheels were giving too much traction and Concretor's wheels were barely touching the ground. General Gau slowly pushed Concretor against the spikestrip. By that point, Concretor was immobilized and General Gau was hitting it a few more times. Concretor was counted out and General Gau won by KO. This meant that Concretor was eliminated from the tournament.
Season 5.0
Concretor's first match was against Sisyphus. Concretor won by KO and advanced to the next preliminary round, where it faced Mini-G. Mini-G won by KO and Concretor was eliminated from the tournament again.
Wins/Losses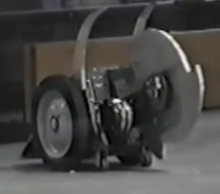 Ad blocker interference detected!
Wikia is a free-to-use site that makes money from advertising. We have a modified experience for viewers using ad blockers

Wikia is not accessible if you've made further modifications. Remove the custom ad blocker rule(s) and the page will load as expected.