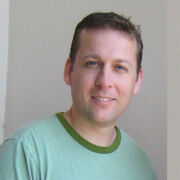 Christian Carlberg
is one of BattleBots' most famous builders and drivers, building and driving most of the robots on
Team Coolrobots
. He built many robots throughout the show's lifespan and even after it, last assisting a group of college students build
Chunk
for the 2009 BattleBots event in Vallejo, California and the ABC Reboot series building the successful Overdrive. Out of Carlberg's robots, his most notable (and successful) are
Minion
,
Knee-Breaker
and
OverKill
, both reaching the finals of tournaments (Minion won two championships in its weight class, OverKill claimed runner-up of Season 4.0 with Knee-Breaker claiming runner-up of Long Beach 1999.) He also had some time on Robotica with Jason Bardis, competing with Mini Inferno with little success.
Carlberg is also a mechanical designer for the entertainment industry. His first movie was Spy Hard, which was followed by the TV movie, Rattled. Over a period of two and a half years, Carlberg worked on Starship Troopers, Mimic, Species II, Virus and Frosty.
Carlberg began working for Walt Disney in 1998, designing rides at theme parks. Prior to working in the entertainment industry in 1995, Carlberg worked for three aerospace companies: GE Aerospace, Martin Marietta and Lockheed.
In 1992, Carlberg graduated from Cornell University, School of Mechanical Engineering. He concentrated in robotics and feedback control systems. Carlberg managed to include LEGO bricks as part of his senior design project.
Carlberg continued his education, part time, at Rensselaer Polytechnic Institute, where he received his Masters Degree in engineering in 1995. Carlberg is 45 years old.
Christian was the builder of the arena hazards for the Las Vegas 1999 Battlebots event, taking a two week vacation to create the hazards and build the arena since Peter Lambertson, the actual designer and builder of the arena, was too busy to do it himself.
Ad blocker interference detected!
Wikia is a free-to-use site that makes money from advertising. We have a modified experience for viewers using ad blockers

Wikia is not accessible if you've made further modifications. Remove the custom ad blocker rule(s) and the page will load as expected.