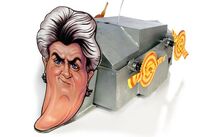 Chin-Killa
was a robot owned by Jay Leno that competed in several demonstration events during BattleBots. Chin-Killa weighed over the weight limit for even the superheavyweight class, which is why it only competed in demonstration battles. Chin-Killa's main weapon was its flipping arm, which was painted to look like Leno's face, which possibly gave it it's name. It also had four spinning blades on the sides which did little to no damage to opponents.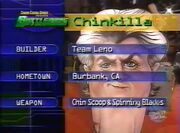 It beat Ginsu in a demo fight in Season 2.0.
It fought in a exhibition fight against Nibbler, Reactore, SMD, Mordicus, Gungnire and General Gau in Season 3.0 but no winner was revealed.
It also fought Ginsu, La Machine and Dreadnought in a demo fight in Season 3.0.
Robot history
Edit
Season 2.0
Edit
Wins/Losses
Edit
Wins: 2
Losses: Unknown
Mark Beiro Introductions
Edit
From the Tonight show on NBC, here is the undisputed champion, Jay Leno's CHIN-KILLA!
Jay Leno's thick-headed, muscle-bound CHIN-KILLA!