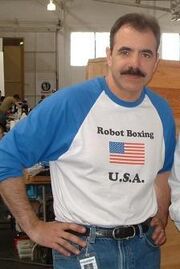 Carlo Bertocchini is one of the oldest and most successful robot builders, going all the way back to the original Robot Wars with the original BioHazard. Carlo competed in all seven BattleBots seasons. He appeared on television in each BattleBots season along with his team. Carlo and BioHazard won four BattleBots championships during the series' run on television, more than any other single robot. He still does combat related things to this day. He applied for Season 2 of the ABC reboot. He also sells parts, providing Lisa Winter with the base of Plan X, a BattleKit.
Ad blocker interference detected!
Wikia is a free-to-use site that makes money from advertising. We have a modified experience for viewers using ad blockers

Wikia is not accessible if you've made further modifications. Remove the custom ad blocker rule(s) and the page will load as expected.