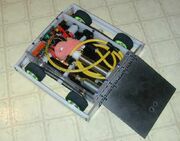 Buzzkill was a Beetleweight robot built by VBT Robotics that competed at the 2004 NPC Charity Open. It was a four wheeled, invertible, lexan clad robot that was armed with a powerful pneumatic flipping wedge, Buzzkill also had a lot of CO2 capacity for a bot of its size, able to get up to 50 flips in per fight.
Buzzkill did very well in the competition, going undefeated until the final when it lost to One Fierce Upper-Cut. Buzzkill also competed at the Lazy Toad Robot Club and Grille 303, and 304, where it won the 303 event. Buzzkill was retired after the NPC Charity Open. VBT Robotics also entered Antweight: Arsenic, and Hobbyweight: VBT12 into the same event, all of which did very well.
Robot History
NPC Charity Open
Buzzkill's first fight was against Peregrine. It won this fight, and advanced to the next round where it faced Doktor. It emerged victorious here as well, and faced Fire Fly in the quarterfinals where it continued its winning streak. This put Buzzkill in the semifinals where it faced Wallop. It won this, and was now in the finals where it faced One Fierce Upper-Cut. It lost this fight, and was declared the Beetleweight runner-up of the NPC Charity Open.
Wins/Losses
Ad blocker interference detected!
Wikia is a free-to-use site that makes money from advertising. We have a modified experience for viewers using ad blockers

Wikia is not accessible if you've made further modifications. Remove the custom ad blocker rule(s) and the page will load as expected.