Bumper was a middleweight robot which competed in the final two seasons of BattleBots. It was a silver full-body spinner with two teeth. It didn't perform well in competition, losing its first match in both seasons it competed in.
After BattleBots, Bumper was renamed Speed Bump.
Robot history
Season 4.0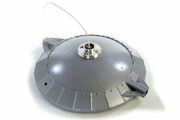 Bumper never got up to high speed in the entire match. Misty kept banging it with her weapon, and pushed him up against a wall. Misty did have a little trouble bringing its weapon to bear, though, because as it tilted to keep from gyroscopically interfering with her steering it became difficult to position for a hit. But in the end, Misty dominated the match, never letting up and won a 32-13 decision.
Season 5.0
Wins/Losses
Ad blocker interference detected!
Wikia is a free-to-use site that makes money from advertising. We have a modified experience for viewers using ad blockers

Wikia is not accessible if you've made further modifications. Remove the custom ad blocker rule(s) and the page will load as expected.