Unrelated to the similarly named robot from Season 3.0-5.0, Bulldog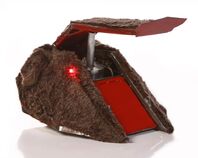 Bull Dog
was a heavyweight robot built by Ian Watts. Its main weapon was a pneumatic flipper. Bull Dog was covered in fur, so if it matched up against a robot armed with a flamethrower it would light on fire, similar to Robot Wars fan favorite
Diotoir
. However, it was not chosen to compete in the main competition, instead being a reserve.
Ian Watts previously built Bigger Brother and Little Sister. Teammate John Frizell did not previously compete on BattleBots, but had participated and represented Canada in Robot Wars in the past with heavyweight Terror Turtle and middleweight Steel Sandwich.
Bull Dog applied to compete in Season 2, but it was rejected possibly due to not being original enough. The team did compete in Season 2 however with Creepy Crawlies.
Robot History
ABC Season 1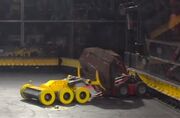 Despite not competing in the main competition, Bull Dog participated in a three bot rumble with Splatter and Stinger. Stinger lit Bulldog on fire and pushed it into Splatter. Splatter then pushed Bulldog into the killsaws. Bulldog lost overall to Stinger.
Bulldog was due to compete in a nine bot rumble at the end of the tournament, but due to time restraints in filming, the rumble never happened.
Ad blocker interference detected!
Wikia is a free-to-use site that makes money from advertising. We have a modified experience for viewers using ad blockers

Wikia is not accessible if you've made further modifications. Remove the custom ad blocker rule(s) and the page will load as expected.