Brian Nave is an expert robot builder, having built robots since Season 3.0 of Battlebots, including time on Robot Wars: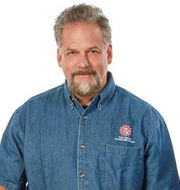 Extreme Warriors. He is a major fan of full-body spinner as he has built one for every competition he took part in, even having a slogan "Spinners rule" whenever he's asked. He's had moderate success in his career but is most notable for his victory over former champion
Toro
. Brian continues to compete, last competing at Battlebots 2016 with
Captain Shrederator.
Ad blocker interference detected!
Wikia is a free-to-use site that makes money from advertising. We have a modified experience for viewers using ad blockers

Wikia is not accessible if you've made further modifications. Remove the custom ad blocker rule(s) and the page will load as expected.