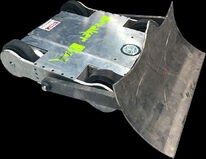 Breaker Box
 was a heavyweight robot built by
Team Nightmare
 which fought in the 2009
BattleBots
Professional Championship. It was a box-shaped robot armed with a titanium lifting scoop on a 360-degree axle so it could function while being invertible. It didn't do well in competition, winning one battle, but losing 2. Breaker Box still fights today with progressively better results.
Breaker Box was originally a middleweight built in three weeks for a competition in 2006 and was a essentially an up scaled version of Team Nightmare's ant, Shazbot.
Robot history
2009 Pro Championships
In Breaker Box's fight against Brutality. Breaker Box got the first attack in before Brutality could spin its blade up to speed, pushing Brutality with the scoop. Brutality escaped and retaliated, causing sparks with the impact of its blade on Breaker Box's scoop. The impact was so great that Breaker Box became immobilized, eliminating Breaker Box.
Wins/Losses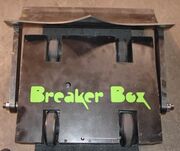 Ad blocker interference detected!
Wikia is a free-to-use site that makes money from advertising. We have a modified experience for viewers using ad blockers

Wikia is not accessible if you've made further modifications. Remove the custom ad blocker rule(s) and the page will load as expected.