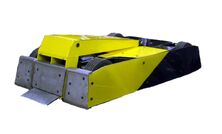 Bounty Hunter was a superheavyweight robot which competed in the 2004 BattleBots charity event. It was armed with a Co2-powered flipping arm. It performed decently in competition, winning two battles overall.
Bounty Hunter was built by the same team that built Hammertime and SubZero.
Robot history
2004 NPC Charity Open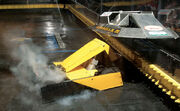 After receiving a bye, Bounty Hunter went against Hogzilla. At one point Bounty Hunter catapults Hogzilla into the wall, while Bounty Hunter started smoking. Bounty Hunter won by a quick KO and advanced to the next round to face Nitro SOW.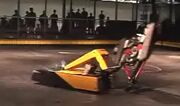 Unfortunately, Nitro SOW never got its spinning hammers up to full speed and Bounty Hunter went straight at Nitro SOW. Bounty Hunter tried to flip Nitro SOW from the left side, but it missed. Bounty Hunter immediately tried to flip Nitro SOW again from the front, but misses again and Nitro SOW pushed Bounty Hunter against the corner of the arena. After this, Bounty Hunter almost flipped Nitro SOW and it tried to flip Nitro SOW once again, but misses. After more missed flips from Bounty Hunter, Nitro SOW tried to push Bounty Hunter, but Nitro SOW couldn't and Bounty Hunter flipped Nitro SOW onto its back. Bounty Hunter pushed the flipped Nitro SOW against the corner of the arena and Nitro SOW was counted out. Bounty Hunter won by KO and advanced to meet The Judge.
Wins/Losses
| | Wins | Losses |
| --- | --- | --- |
| 2004 NPC Charity Open | Bye | |