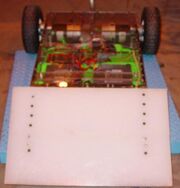 Botsy was a Middleweight built by a group of students from Florida under the team name: Tasmanian Tigers that competed at the inagural BattleBots IQ Tournament in 2002. It was a two-wheeled invertible robot with no active weapon, Botsy was armored in lexan, and had a white, plasitc wedge at the front to get under other robots.
While not much is known about Botsy's performance at BattleBots IQ 2002, it is known that it did reasonably well, winning at least one fight against eventual quarterfinalist E2, and reaching the round of 16 at the very least.
Robot History
BattleBots IQ 2002
This tournament much like the 2009, and 2011 BattleBots tournaments is still shrouded in mystery to this day, and the brackets are not known. What is known is that Botsy did win at least one fight against E2.[1]
Wins/Losses
References
Ad blocker interference detected!
Wikia is a free-to-use site that makes money from advertising. We have a modified experience for viewers using ad blockers

Wikia is not accessible if you've made further modifications. Remove the custom ad blocker rule(s) and the page will load as expected.