Bombus Bombus
was a lightweight robot that attended the Long Beach 1999
BattleBots
competition. It was a gold and black T-shaped robot. It was armed with a small horzontal spinning saw and a rear spike. Due to numerous electronic issues, Bombus Bombus did not compete in either of its matches.
Bombus Bombus was supposedly named after a species of bumblebee of the same scientific name.

An earlier version of Bombus Bombus also entered Robot Wars 1997 in the lightweight division as Finagler.
Robot History
Long Beach 1999
Bombus Bombus was scheduled to fight Instigator first, but had technical problems and had to forfeit. Bombus Bombus was now in the loser's bracket, where it would face Stinger. However, Bombus Bombus was struck again with electronic issues, and so it had to forfeit once again, eliminating it from the tournament.
Bombus Bombus did not show up for the kilobot royal rumble due to the issues.
Wins/Losses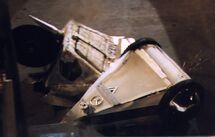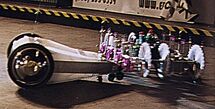 Ad blocker interference detected!
Wikia is a free-to-use site that makes money from advertising. We have a modified experience for viewers using ad blockers

Wikia is not accessible if you've made further modifications. Remove the custom ad blocker rule(s) and the page will load as expected.