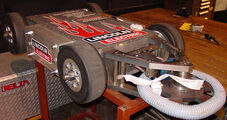 Bolo (originally Bolo Mark X) was a superheavyweight robot which competed in the final two seasons of BattleBots. It was originally a silver wedge-shaped robot with no active weapon. For Season 5.0, it was completely rebuilt into a four-wheeled robot that was armed with a horizontally-spinning disc. It didn't perform well in competition, losing its first match in both appearances.
Robot history
Season 4.0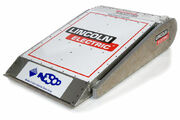 American Justice got to the side of Bolo and got under him, then rammed the bot twice into the spikes, pinning him. A.J. backed up again, dragging Bolo on his wedge, and then rammed him into the wall several more times. A.J. seemed to be moving a bit intermittently at times, but he still won a 37-8 decision.
Season 5.0
Wins/Losses
Ad blocker interference detected!
Wikia is a free-to-use site that makes money from advertising. We have a modified experience for viewers using ad blockers

Wikia is not accessible if you've made further modifications. Remove the custom ad blocker rule(s) and the page will load as expected.