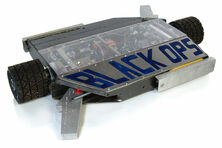 Black Ops was a heavyweight robot which competed in Seasons 3.0 and 4.0 of BattleBots. It was a two-wheeled robot originally armed with two spiked wedges before being replaced with two retractable arms. It didn't perform well in competition, losing its first fight in both appearances.
The Team who built Black Ops also competed in the superheavyweight division with Proto-Type 4, the middleweight division with M.I.A. and the lightweight division with A.W.O.L., the first two never bothered to compete again after losing in round one.
Robot history
Season 3.0
Black Ops's first opponent was Chewbot. Chewbot won by KO at 1:02 and Black Ops was eliminated.
Season 4.0
Black Ops's opponent this season was Deathstar. The bots hit each other many times, Death Star's saws making impressive sparks, but not doing much damage even on the surface. Black Ops had a hard time pushing Death Star, and after getting sawed on for about a minute, Black Ops had a spontaneous failure and died. Death Star won by KO.
Wins/Losses
Ad blocker interference detected!
Wikia is a free-to-use site that makes money from advertising. We have a modified experience for viewers using ad blockers

Wikia is not accessible if you've made further modifications. Remove the custom ad blocker rule(s) and the page will load as expected.