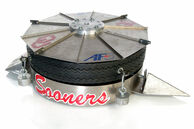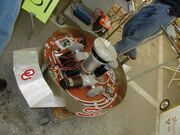 Berzerker 2000
 was a heavyweight robot that fought in Seasons 2.0 and 4.0 of
BattleBots
built by a group of students from the University of Oklahoma. It was a circular robot armed with a spinning tire with attached flails and two triangular wedges. Berzerker 2000 was not very successful, losing its only battle in Season 2.0. After this loss, the robot was revised, named
The Bevo Blender
, and entered by a completely different team for Season 4.0. It still couldn't win a battle, and the robot was retired afterwards.
Robot history
Season 2.0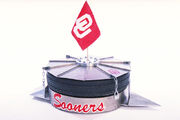 Berzerker 2000 was supposed to fight Mortis, however Berzerker 2000 forfeited the fight.
Season 4.0
Space Ape rammed Bevo Bender several times, easily stopping its low speed spinner each time, and, ripping off 2 flails. Eventually The Bevo Blender just died.
Wins/Losses
Merchandise
Appearances by Berzerker 2000 in merchandise are listed below.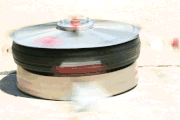 Ad blocker interference detected!
Wikia is a free-to-use site that makes money from advertising. We have a modified experience for viewers using ad blockers

Wikia is not accessible if you've made further modifications. Remove the custom ad blocker rule(s) and the page will load as expected.