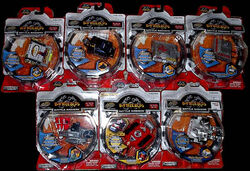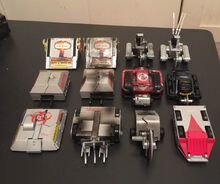 Amongst the toy line, Jakks Pacific introduced the Battle Bashers series. These toys featured friction motors and when their impact zones, usually at the front, were hit, the toy would "explode" and be considered knocked out. Alpha Raptor was the least like its counterpart because of its flat back end and being gray instead of white on top around its lifting arm.
1st Edition & 2nd Edition
The line up included:
2nd Edition had one difference from 1st Edition in that the toys were painted to look battle damaged, in the form of darkened paint and scratches. Underneath each toy, a blank rectangle would take the place where the name of the robot would be. Due to copyright issues, the BioHazard toy had its name removed from both the toy and the packaging and was dubbed "Heavyweight Champion" on its packaging. Any 1st Edition versions of the toy also had the name removed from the toy but black tape was placed on or inside the packaging to hide the name. Strangely, this wasn't carried over to the Grip 'N Grapplers as their undersides still displayed their name, even if the toy was 2nd Edition.
3rd Edition
This introduced the "Robo Graphics Collection" which featured an image of the actual robot on the left side of the packaging and the toy was in a new position. In this line, Ronin was replaced by Bad Attitude. There were no other changes to the toys themselves except for the word "BattleBots" being added above the name of the robot and the rectangle used in place of the name at the bottom of the toy is used here, except on the Bad Attitude toy, which has neither a printed name, nor the rectangle in place of the name. A 4th Edition Robo Graphics Collection was mentioned but never produced, likely due to the cancellation of the BattleBots TV show.
Ad blocker interference detected!
Wikia is a free-to-use site that makes money from advertising. We have a modified experience for viewers using ad blockers

Wikia is not accessible if you've made further modifications. Remove the custom ad blocker rule(s) and the page will load as expected.