Not to be confused with the Middleweight robot that entered the first BattleBots IQ competition.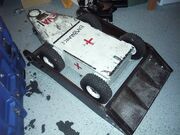 Bambulance was a heavyweight built by Team LOGICOM. It was an invertible, four wheeled box shaped machine armed with a wedge. It attended the 2004 BattleBots NPC Open but it didn't compete. It did, however, compete at four other competitions.
Bambulance was originally Team LOGICOM's second entry into Robot Wars: Extreme Warriors. It went under the name Spin Doctor and was armed with a flywheel. Spin Doctor was also entered into the Nickelodeon Robot Wars with its team mate The Revolutionist where they competed in the Tag Team Terror, which the pair managed to come second in.