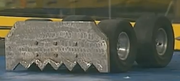 Bad Blood
 was a heavyweight robot built by Team Killerbotics that fought in Season 5.0 of BattleBots. It was essentially half of the team's superheavyweight
New Cruelty
, a four-wheel drive robot armed with a thick pushing plow at the front. However, it lost its only battle against
Diskontent
and thus never appeared on television.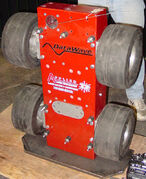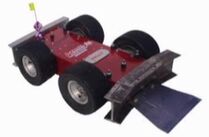 Bad Blood returned for the NPC Charity Open under the name Corporal Punishment, and it did well, winning two matches and making the semifinals.
Robot history
Season 5.0
Bad Blood's first ever opponent was Diskontent. This was mainly a pushing match and the time ran out soon after. Diskontent won on a close 24-21 judge's decision and Bad Blood was eliminated.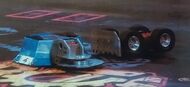 2004 NPC Charity Open
Bad Blood, now known as Corporal Punishment, went up against Unit 3000-21 in the first round. Corporal Punishment came charging and rams Unit 3000-21. Corporal Punishment pinned Unit 3000-21 against the wall, but Unit 3000-21 escapes and attacks with its drum, though it didn't cause any damage. Unit 3000-21 backed off to get its drum at full speed and when it did, Corporal Punishment tackles Unit 3000-21 right in the drum, making Unit 3000-21 ricochet from the attack. This also seems to have disabled the drum since it wasn't spinning anymore. After getting its bearings Corporal Punishment bashes Unit 3000-21 into the wall. Corporal Punishment then pushes Unit 3000-21 near the pulverizer, and upon escaping drives itself into the pulverizer. Corporal Punishment then rams Unit 3000-21 into the wall again, though Unit 3000-21 did-not retaliate after Corporal Punishment backed off; in fact Unit 3000-21 wasn't moving at all and the ref began counting it out. Corporal Punishment won the match by KO and moved forward.
Wins/Losses
| | Wins | Losses |
| --- | --- | --- |
| Season 5.0 | None | Diskontent |
| 2004 NPC Charity Open | | |