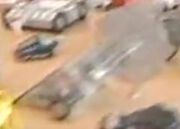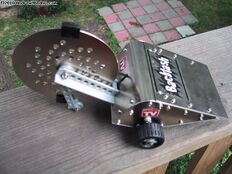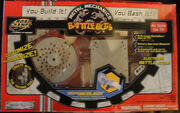 As well as a
Battle Basher
,
 Backlash
was offered as a kit in 2001 by Jakks Pacific and Road Champs for those willing to build their own version. It is based on the Season 2.0 version of Backlash due to the circular holes in the disk, the shape of the disk's teeth and the single wheel support for the weapon. The spinning disc is completely motorized, using power from 2 AA batteries, although the robot itself is non-mobile. It is extremely detailed, with the only flaw being Backlash's rear wedge, which has an axle that sticks out on both ends to secure the wedge to the frame. Consequently, its high ground clearance means the wedge can't get under other robots easily. There was another version of this kit released slightly later, based on the Season 3.0 version of Backlash. Either kit is best used on a hard wood surface as carpeting tends to cause the kit to tip slightly up at the front, causing the rear wedge cover to lift open, though that might also help it get under other toys more easily.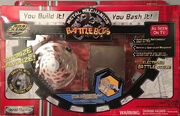 Ad blocker interference detected!
Wikia is a free-to-use site that makes money from advertising. We have a modified experience for viewers using ad blockers

Wikia is not accessible if you've made further modifications. Remove the custom ad blocker rule(s) and the page will load as expected.