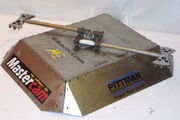 Axis
was a middleweight robot that competed at the initial
BattleBots IQ
tournament. It was an octagonal robot armed with overhead spinning axes and wedging on all sides. It also attempted to compete at Season 5.0, as did many BattleBots IQ robots, but it failed its safety inspection and could not compete.
Robot history
BattleBots IQ tournament

Axis's first opponent is not known, but it won before advancing to the next round where it likely faced Edge. This fight started with Edge box rushing Axis, which was already up to full speed. One of Axis's axe heads glanced off of Edge's wedge, and broke off destabilizing it, and forcing the team to run it at low speed for the rest of the fight.
Edge took advantage of this, and slammed Axis all over the arena before shoving it into the fight strips within a minute of the match starting. At some point during all this, Axis managed to get under Edge, and slam it into the wall. However in doing so something broke inside of Axis, and it stopped moving.
Edge then managed to shove Axis under the Pulverizer just as the time ran out on the clock. Edge won the resulting judges decision, putting Axis in the loser's bracket. Axis's next opponent was likely Steven Segal. It won this match by KO, and progressed to the next round where it lost to yet another unknown opponent.
Wins/Losses
Competition
Wins
Losses
BattleBots IQ 2002
????
Edge

????
Ad blocker interference detected!
Wikia is a free-to-use site that makes money from advertising. We have a modified experience for viewers using ad blockers

Wikia is not accessible if you've made further modifications. Remove the custom ad blocker rule(s) and the page will load as expected.