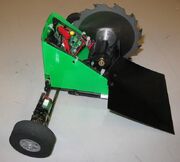 Arsenic was an Antweight built by VBT Robotics that competed at the 2004 NPC Charity Open. It was a Green, and Black, two wheeled wedge shaped robot, armed with a vertical saw blade. Aresenic did very well in the competition, placing fourth and losing only to eventual champion MicroNightmare.
Despite being a rather new robot, only competing in five events in 2003, and 2004 with varying success before its BattleBots debut, the 2004 NPC Charity Open was to be Arsenic's last ever event as it was retired immediately afterwards. The team that built Arsenic also built Hobbyweight VBT12. which placed third at the same event.
Robot History
2004 NPC Charity Open
Arsenic's first fight was against UnderWHERE?!. It won that fight, and went up against MicroNightmare. Losing this fight meant that Arsenic was now in the losers bracket where it faced Decidedly Undecided. It won that fight putting it in the losers bracket quarterfinals against POW. It won that fight as well meaning it advanced to the losers bracket semifinals where it faced /bin/bash. It won this fight, and was now in the first part of the losers bracket finals where it faced MicroNightmare again. It lost this fight, and was eliminated from the competition in fourth place.
Wins/Losses