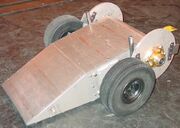 A-10 Thunderbolt
was a middleweight robot which competed in Season 5.0 of
BattleBots
. It was a fully-invertible wedged robot armed with two spinning discs, similar to
Dreadnought
. However, it was destroyed in its only battle against
Chopper
.
A-10 Thunderbolt was originally named Steven Seagal and entered into the first ever BattleBots IQ tournament, but it didn't do well there and so after the competition it was sold off to another team and re-named.
Robot history
BattleBots IQ 2002
Steven Seagal's first opponent was likely Kaibosch. It won this fight, and advanced to the next round where it faced Wee Willy Wedgy, it lost, and was now in the loser's bracket where it faced Axis. It lost this match as well, likely by KO, and was eliminated from the competition. Steven Seagal wasn't done however as it competed in the Consolation Rumble at the end of the tournament, it won this and advanced to the royal rumble, however it lost the royal rumble overall to Kaibosch.
Season 5.0
Steven Segal had a name change for Season 5.0, and was now known as A-10 Thunderbolt. Its first match of the event was against Chopper. In this match Chopper completely destroyed A-10 Thunderbolt, which was promptly counted out, and eliminated from the competition.
Wins/Losses