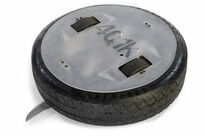 401(k)
was a lightweight robot built by David Whitaker that competed at Season 4.0 of
BattleBots
. It was a translucent robot shielded by a large Elastomer tire, designed to shield it from impacts, armed with a small spike in front. It didn't perform well in BattleBots, losing its only match.
Robot History
Season 4.0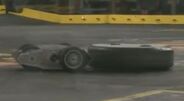 401(k)'s only battle was against
Ramming Speed
. 401(k) could only move in circles at the beginning of this battle, so Ramming Speed drove over and shoved 401(k) into the spike strip. 401(k) regained control after this and the match became a pushing match where Ramming Speed had a slight advantage. Eventually time ran out and 401(k) lost a 31-14 judge's decision, eliminating it from the tournament.
Wins/Losses:
Ad blocker interference detected!
Wikia is a free-to-use site that makes money from advertising. We have a modified experience for viewers using ad blockers

Wikia is not accessible if you've made further modifications. Remove the custom ad blocker rule(s) and the page will load as expected.